Newport News, VA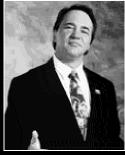 Larry Zbyszko
vs.
Q-Sic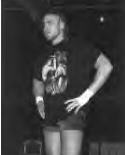 Virginia Championship Wrestling at Mitty's Nightclub, in Newport News, In what can be called a classic match filled with great scientific moves, VCW Heavyweight Champ Q-Sic retained his title by pinning Larry Zbyszko. After the grueling contest, the usually surly Zbyszko stated that the young champ is gonna be a great star.
Other Bouts:
Virginia. "K-Assassin" Korie James defeated "Totally 80's" Robert Royal (managed by
Neil Sharkey) by disqualification when Sharkey broke up James' pinfall on Royal. 2 Damn Badd (with Pat Anderson and Preston Quinn) defeated Logan
Knight. Sean Lei (with Lilly) defeated VCW
Cruiserweight Champion "Smooth Operator" Steve Perez to win the title. Sonjay Dutt interfered and hit Perez with a standing shooting star press
to set up the pinfall. Hot Property defeated "Simply Perfect" Preston Quinn by DQ. 5. VCW Tag Team Champions Christian York and Joey Matthews defeated
"Ramblin'" Rich Myers and Julio Dinero (substituting for the injured Earl the Pearl) to retain the titles.
Wilmington, DE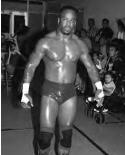 Scoot Andrews
vs.
Slyk Wagner Brown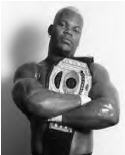 East Coast Wrestling Association at the St. Matthews Parish Center, Wilmington, Deleware. The talented "Black Nature Boy" retained his ECWA Heavyweight Championship by defeating the young up and comer Brown. The action was fast and furious, but in the end Andrews hand was raised,
Other Bouts: Delaware.Thunder & Johnny Maxx defeated Mr. Ooh La La & Mozart Fontaine. Japanese Pool Boy defeated Abunai.The tag team champions Low Ki & American Dragon went to a draw with THE S.A.T. (Joel & Jose Maximo) when the "J" Team interfered.Prince Nana and Cheetah Master Wrestled to a No Contest.








MARYLAND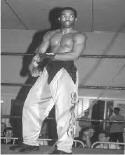 Qennan Creed
vs.
Chad Bowman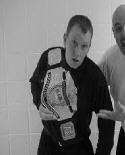 Maryland Championship Wrestling Cruiserweight title match between champion Qennon Creed and challenger Chad Bowman (w/ Tara). A great high flying match for the cruiserweight strap, which Qennan Creed has been successfully defending for several months now. After the usual interference by Tara, Creed was able to retain his title as he pinned Chad Bowman while having a tight grip on the ropes. Winner: Qennan Creed ..
Other Bouts:
"Redneck" Billy Redwood pinned Adam Flash. The Bruiser defeated Julio Dinero. Marcus Jordan beat "Soda Pop" Ronnie Zukko.