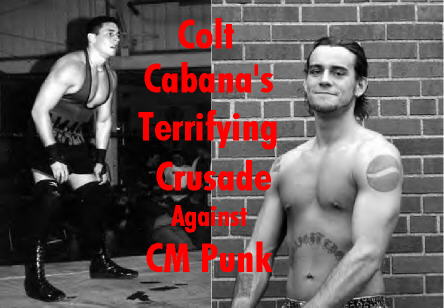 Colt Cabana is cocky. He is arrogant. He's hated everywhere he goes. He's an old school wrestler who likes to spice it up with some new school creativity and innovation He is one of the best wrestlers in the Midwest. Yet he is obsessed on destroying former partner CM Punk. He is jeopardizing his promising career by sacrificing his body and soul. "I'm going to end CM Punks career if it's the last thing I do" states Cabana.
CM Punk is a flyer extraordinaire. He's a sound technical wrestler. The fans love him (especially the ladies). He also is one of the best wrestlers in the Midwest, yet his promise has been put on hold. Former friend Colt Cabana is intent on ruining him, and Punk is not backing down.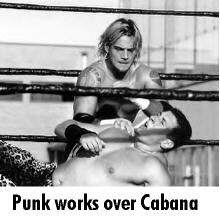 Night after night, these two men battle throughout the Midwest. Never a decisive victor in their series of matches. Each night they tear into each other without mercy. Blood has been spilled, bones have been broken, yet their hatred for each other burns brighter each day. Some say a woman is the reason for their falling out. Others say it is over owed money. Whatever the case, it's time to stop this feud before someone is permanently hurt.
At a recent Steel Domain Wrestling (SDW) card in St Paul, Cabana suplexed Punk off the top of a pop machine onto the hard concrete floor below. Punk was knocked out cold.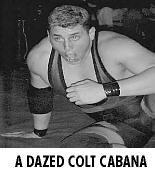 Children clutched their parents, all the women cried, even the men in the audience couldn't bear to watch the events taking place in front of them. At another event Punk took the battle outside and rammed Cabana's head through a car window.
They take their battles elsewhere. Cabana cost Punk the IWA Mid-South Heavyweight Title by interfering in CM's match with champ Trent Baker. Punk had the match won, if not for the vindictive Cabana's sneak attack and subsequent holding of his feet while the ref wasn't looking. After the match, a devastated and enraged Punk threw a cinderblock through the windshield of Colt's new Lamborghini. Out charged Cabana and they proceeded to brawl throughout the parking lot. (Punk recently won the coveted IWA Mid-South Heavyweight Title)
Some feel Cabana and Punk are the future of Pro wrestling. If they do not stop this war now, There will be no future for either.