Wilmington, NC
ACCW (Atlantic Coast Championship Wrestling) has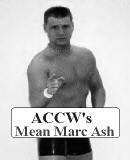 secured sponsors for a TV show and have negotiated a late night time slot with a major network. Also they will be returning to their old TV stations in the Wilmington, NC metro area during prime time for those who just can't hang to watch the late night show.
Chicago, IL
Jimmy Blaze has been making a lot of noise, as of late, in the PCW. He has attacked women. He has bloodied and attacked his former tag team partner. Now, he has taken it upon himself to challenge the reigning PCW Heavyweight Champion Sacrifice. Considering his win-loss record lately, why would one allow for a Jimmy Blaze VS. Sacrifice championship match. Well, after much debate, It was justified that Blaze does have a legitimate complaint concerning his efforts toward winning the "big one." Jimmy Blaze is a former Cruiserweight , Midwest, and Tag Team titleholder in this organization.

Vale, NC
The current ACW champion Rev. Slim is expected to be out with a knee injury.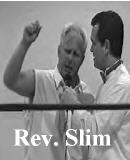 He may be out for several months. He was injured in a match with Rick Noble at a recent ACW event. The title will be on the line at the next ACW event. How will the belt be decided? Well we dont know yet. Commissioner Daniel Moses hasn't commented on the subject yet. ACW officials have suggested a 12 man Battle Royal declaring last man in the ring as ACW heavyweight

Newport News, VA
VCW (Virginia Championship Wrestling) Idol X was injured in a single-elimination 4 way No disqualification match on December 1st in Smithfield. A brutal chair shot resulted in a mild concussion and multiple stitches for the turncoat from Intercourse, PA. Let it be noted that manager Dexter Holley, whom had earlier been banned from any ringside activity, passed the chair into the ring.
Jefferson, WI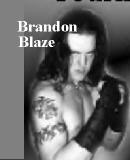 North American Wrestling Federation (NAWF) The tag team division is currently heating up. Three teams; Major Pain/Private Area, Brandon Blaze/Ryan Rogue and Tweek/Damien have signed on for a series of 3 way dances, to be held across the Midwest.
The winner of the series will be declared the NAWF tag champs.

Dublin, GA
GWF (Georgia Wrestling Federation) Heavyweight Champion The Mastadon has really had his hands full lately. Seems everybody in Georgia is after his belt. The current list of challengers include Ghetto Blaster, CW Justice and Abel Atoms.

Stonewood, WV
NWA West Virginia/Ohio announced a merger with Mason-Dixon Wrestling. The group will currently maintain operation under the NWA banner and was awarded the territory formerly reserved for Ohio Valley Wrestling, namely Eastern Kentucky. The group will undergo a name change in the near future.