Profiles: NAWF Superstars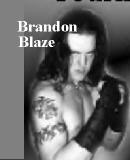 Brandon Blaze
North American Wrestling Federation's Rookie of the Year 2001. High Flyer who takes amazing risks. Most popular wrestler in the NAWF. Arsenal includes Swanton Bombs, Hurricaranas, and other assortments of deft defying movies off the ropes. Currently teaming with Ryan Rogue in pursuit of NAWF tag straps. Also a top contender for the Cruiserweight title. Blaze and Rogue currently feuding with twins Tweek and Damien. Blaze has lost a lot of blood during these encounters. Has wrestled for NWA Worldwide. Blaze has also faced current NWA World Heavyweight Champion and former ECW Heavyweight Champion Steve Corino.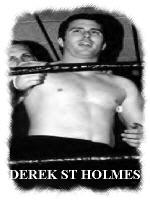 Derrick Saint Holmes Esquire
Most hated man in the NAWF. Crafty snob from the Hamptons uses a combination of scientific moves and rule breaking maneuvers. Believes the fans are nothing more than trash. His goal is to educate the ignorant masses the subtleness' of scientific wrestling. Finishing move is the Saint Holmes Stretch. This submission move has sent many to the hospital. Currently feuding with Buzzsaw Brad Hunter, his former prodigy and student. Top contender for the NAWF Heavyweight Championship. Lost to George "The Animal" Steele when Steele used a foreign object to gain the victory. Up until that moment, Saint Holmes had the veteran beat. Has also faced Tom "Rocky" Stone,Sodbuster Kenny Jay, Jake "The Milkman" Milligan, and King Kong Bundy.