Profiles: ACCW (Atlantic Coast Championship Wrestling) Superstars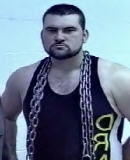 Boris Dragoff "The Russian Lion"
19 3/4 Kilos
6'1"
Hails from Moscow Russia

Boris Dragoff was trained by former WWF Heavyweight Champion Ivan Koloff Where his trainer was the Russian Bear he is the Russian Lion. Known to rip apart his opponents with brute strength and lightning fast take down moves leaving arms and legs locked in pain. Time and time again has had many of his opponents begging and beating the mat to be released. A Master of the Russian Chain Match only his trainer and Viper has ever been able to come close to defeating him.
Viper
265 pounds
6'
Hails from Saratoga, North Carolina.

Viper has over 10 years under his belt as a professional wrestler. He held the Atlantic Coast Championship Wrestling's Heavyweight title in 1997 and 1998 until he was defeated by Ballistic. After that Viper left to pursue titles in other independent wrestling federations. But his heart never left Atlantic Coast Championship Wrestling and now he is back. Looking great and in the best shape of his life, with his eye on that Heavyweight Title. He vows to regain what is rightfully his. He's currently embroiled in a series of matches with hated Boris Dragoff.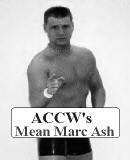 Marc Ash
220 pounds
6'1"
Hails from Myrtle Beach, South Carolina.

Mean Marc Ash has 11 years of expeirence as a professional. Current Lightweight Champion . A very good technical wrestler who can brawl with the best of them, this seasoned veteran finds a way to win .Marc started in the wrestling business at a young age and this has proved to be the advantage he holds over other wrestlers. Ash has wrestled Ivan Koloff, Wahoo McDaniel, Bobby Fulton, and Craig Pittman. His finishing move is the Ashkicker. Currently defending his title against the likes of Nemesis and Leo Alure.