Bayonne, NJ
JAP (Jersey All Pro Wrestling) will debut a weekly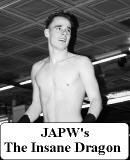 60 Minute TV show starting on Friday night January 18th at 12:00am on channel 70 in Bayonne, NJ. This is just the 1st step for JAP weekly TV. They will be announcing more stations very soon. After several chances, The Insane Dragon finally captured the JAP Light Heavyweight Championship from the former champion Deranged. The Insane Dragon was on the verge of winning the Light Heavyweight Championship several times before, only to be stopped by his brother Dixie and The Hit Squad.
Sacramento, CA
WCPW (West Coast Pro Wrestling) At a recent card in Sacramento, the WCPW crowned an astounding five new champions. Rob Wilds kicked the show off by winning the Hardcore title. Handsome Jack Dalton won a mini tournament for the North American title. Mr GSWA Baby Ray and Clint Douglas won the tag titles. L'Empereur used the ropes to win the Junior Heavyweight title and Polar Bear Danny Tundra won the Heavyweight title in a triple threat against Bulldog Brian Raymond and The Big Ugly JD Bishop
Tacoma, WA
ICW (International Championship Wrestling) Buddy Wayne & Ritchie Magnet continue their feud with Shoulders Torelli & Rugged Rod. These two teams have battled all over the state of Washington with no clear cut winner. Details are sketchy on why these guys hate each other so much, but their matches as of late have become knock down drag out affairs.


Chicago,IL
NAWF (North American Wrestling Federation) action. Derrick St Holmes Esquire has vowed revenge on his former student and prodigy Buzzsaw Brad Hunter. The once frequent tag partners have now become bitter rivals. St Holmes helped out the newcomer in 2001 and declared him a prodigy. He took the youngster under his wing and managed him to victories across the Midwest (albeit some assistant from St Holmes favorite weapon, The Book of Knowledge). The Esquire finally tired of his protégés inability in tag matches and let him know it. After a loss to Friar Flanigan & Eric Pellegrini, Holmes pounded Hunter with lefts and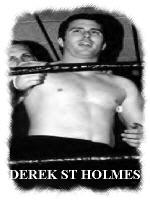 rights filled with frustration. The confused Hunter fought back and nailed his master with a series of forearms. The cowardly St Holmes fled the ring, and the fan's cheered for Hunter. Hunter has recently tagged with the popular Wisconsin Chicken and the fans are beginning to love him. St Holmes has interfered in matches and has cost the team to lose. A series of matches have been signed between the two.
Moorefield, WV
CPW (Championship Pro Wrestling). Championship Pro Wrestling has joined the United States Wrestling Accord. They will now have access to more hot new talent from other promotions plus retain all of the CPW wrestlers that the fans know and love. Champion Switchblade has only lost one match via pinfall in Championship Pro Wrestlingin over 3 years.