The Wrestler Revue Hall of Fame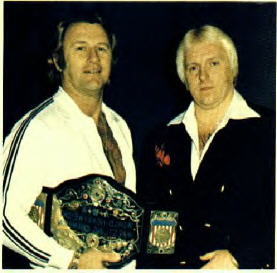 Inaugural Inductee Nick Bockwinkle

Nick Bockwinkle is one of the sport's most well-respected and famous wrestlers of the past 30 years. During his decades-long career, he truly did everything. He won numerous N.W.A. Pacific Northwest and A.W.A. regional and World titles both as a singles wrestler and a tag team champion. Bockwinkle is best remembered as one of the greatest champions of all-time.
Nick teamed with his father Warren Bockwinkle during the early goings of his career, and the father/son duo had a great deal of success together. After his father retired, Nick continued wrestling and winning. He became one of the sport's top young stars, and a big drawing name for promoters, as fans took notice of the athletic, talented, and cocky young wrestler. He won the N.W.A. Georgia Heavyweight title, one of the N.W.A.'s most prestigious regional championships, twice in 1970. He developed a strong reputation throughout the country, as well as a hate/hate relationship with the fans and they really hated him!
Bockwinkle's greatest success came when he entered the American Wrestling Association. He formed a devastating team with Ray "The Crippler" Stevens, and the duo went on to become 3-time A.W.A. World Tag Team champions, holding the title belts for a combined 3 1/2 years between 1971-1975. Bockwinkle and Stevens met and defeated some of the most talented teams of the day.
Stevens & Bockwinkle faced the very best of the best during their lengthy tenure as champions; The Bruiser & The Crusher, The Crusher & Billy Robinson, Mad Dog & Butcher Vachon, Verne Gagne & Billy Robinson, and many other great opponents during their long partnership in the American Wrestling Association. The duo, led by "Pretty Boy" (later, "The Brain") Bobby Heenan, is considered perhaps to be the greatest (and certainly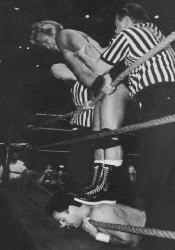 one of the most dominant) AWA tag team champions in the 31-year history of the promotion. But after firmly establishing himself as a premier Tag Team wrestler , there was still more glory in store for Bockwinkle, this time as a singles wrestler...
Wicked Nick's arrogant and frequent proclamation of being "the smartest wrestler alive" combined with his undeniable talent, rude and often condescending mannerisms, his tendency to cheat, and his frequent reliance on DQ losses infuriated fans throughout his 5-year long 1st AWA title reign. Bockwinkel also made history by putting his title on the line in the first-ever A.W.A. vs. W.W.F. title unification match (Vs. Bob Backlund) with the classic match ending in a 1-hour draw.
The fans' hatred for Bockwinkle continued during his second reign as AWA champion, which began after he lost the belt back to Gagne on July 19, 1980 at Commisky Park in Chicago. On May 19, 1981, the AWA awarded it's World Title to Bockwinkel, who was the #1 contender, after Gagne retired from wrestling...Upsetting AWA fans once again. Bockwinkel held the title for nearly a year and a half before he was beaten on August 8, 1982 by Otto Wanz in a major upset. Bockwinkle regained the title from Wanz 2 months later, and went on to hold it for nearly another 6 months until he was beaten by Jumbo Tsuruta on February 22, 1984 in Tokyo.
Bockwinkle, who was now without Heenan, had been out of the AWA World Title picture for nearly 2 years when the veteran (and now, miraculously, loved by the fans) Bockwinkel was scheduled to meet (and defeat) then-AWA champion Stan Hansen. When told he would be losing the title that night, Hansen walked out of the Denver arena with the AWA title belt (and immediately defended it in Japan, until he was legally forced to stop) on June 28, 1986. Still, the AWA World Championship (minus the belt) was awarded to Bockwinkel that night.
Although Bockwinkle was now a loved fan favorite, the fact that he had been "given" the World Title not once, but twice (as well as a couple of unflattering matches during which he was pinned, but was allowed to keep the title due to a technicality) tarnished Bockwinkel's reputation in the eyes of many fans at the time. Despite all of the controversy, though, Bockwinkel used his considerable skill and wealth of knowledge (plus some good "luck" courtesy of AWA President Stanley Blackburn) to defend the AWA title for one more year, until he was defeated by Curt Hennig...forever ending Bockwinkle's championship history.
During his combined 8 years as AWA World champion, he met and defeated a virtual "Who's Who" of wrestling superstars...Dick The Bruiser, Sodbuster Kenny Jay, Rick Steamboat, The Funks, Larry Zbysko, Verne Gagne, Mad Dog Vachon, Bruiser Brody, Jerry Lawler, Rick Martel, Tito Santana, The Crusher, Baron Von Raschke, Tommy Rich, Crusher Blackwell, Wahoo McDaniel, Andre The Giant, Hulk Hogan, and many more. After his retirement, Bockwinkle was inducted into the W.C.W. Hall of Fame, and later became the WCW Commissioner, where he was an important part of several WCW storylines for nearly a year. He is now retired, more or less, from all activities in pro wrestling.
Loved or hated by the fans, Nick Bockwinkle was always respected as a superior technical performer. His accomplishments during his 25-year long career as a wrestler speak for themselves. Nick Bockwinkle is one of the greatest ever to step in the squared circle.
Titles
Pacific Northwest Heavyweight Champion (2 Times)*
AWA World Tag Team Title (with Ray Stevens)(3 Times)**
AWA World Heavyweight Champion (4 times)***
NWA Georgia Heavyweight Champion (2 Times)
* Defeated Tony Borne on 10/30/63 Lost title to Mad Dog Vachon 11/21/63
* Defeated The Destroyer on 5/22/64 Lost title to Pampero Firpo 6/23/64
**Defeated Red Bastien/Crusher on 1/20/72 Lost title to Verne Gagne/Billy Robinson 12/30/72
** Defeated Vern Gagne/Billy Robinson on 1/6/73 Lost title to Crusher/Billy Robinson 7/21/74
** Defeated Crusher/Billy Robinson on 10/24/74 Lost title to Dick the Bruiser/Crusher 8/16/75
*** Defeated Vern Gagne on 11/8/75 Lost title to Vern Gagne 7/18/80
*** Awarded title due to Vern Gagne's retirement 5/19/81 Lost Title to Otto Wanz 8/29/82
*** Defeated Otto Wanz on 10/9/82 Lost title to Jumbo Tsuruta 2/22/84
*** Awarded Title when Stan Hansen Left AWA Lost title to Curt Henning 5/2/87